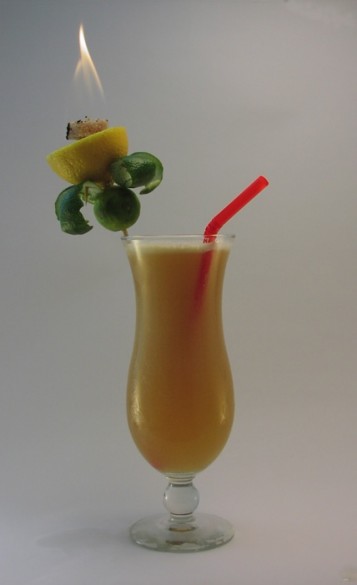 The Miehana is my go-to umbrella drink; it's yummy, easy to make and is fruity without beating you over the head with the rum. It's a modern invention, not an old-school Tiki-drink but I like it.
Combine the following in a shaker ⅔ full of ice
1 ounce of fresh lime juice
1 ounce of orange juice
1 ounce of unsweetened pineapple juice
1 ounce of Grand Marnier
1 ounce of gold Virgin Islands rum
1 ounce of coconut-flavored rum
Shake well and pour, unstrained, into a double old-fashioned glass or a Miehana mug (crafted by TikiFarm but only available on ebay currently). Add ice as needed to fill glass. Alternately, you can make one-and-a-half and fill a hurricane glass!
Flaming garnish is inspired by the out-of-print book, Pad: The Guide to Ultra-Living
. I'm working on a separate post just about the flaming garnish. Short story is leave a bit of bread on the counter overnight and douse it with lemon extract (found with vanilla extract with spices at your grocer).
Recipe from Beach Bum Berry Remixed
.
Seriously, if you attempt a flaming garnish please be safe; have an Multi Purpose Fire Extinguisher
on hand.