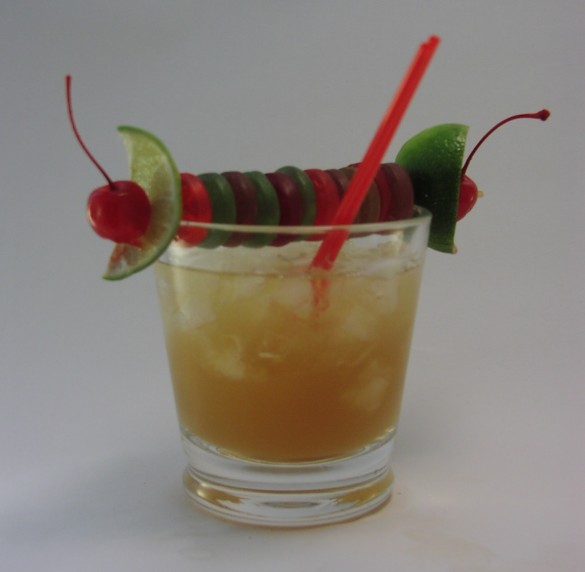 This recipe is from the South Seas restaurant in Honolulu, Hawaii circa 1970. Not your standard Zombie recipe but a very nice version. Plenty of rum and fruit in this one, no surprise there!
Combine the following in a shaker ⅔ full of ice
1 ounce of orange juice
1 ounce of unsweetened pineapple juice
½ ounce of fresh lemon juice
½ ounce of sweet Italian vermouth
½ ounce of orange curaçao
1 ounce of dark Jamaican rum
½ ounce of light Puerto Rican rum
Shake well and strain into a tall glass filled with crushed ice. Float
1 ounce of dark 151 proof rum atop the drink
Recipe adapted from the out-of-print Beachbum Berry's Intoxica!
, if you're interested you may want to order his updated book Beach Bum Berry Remixed
The garnish here is from one of my favorite (also out-of-print) books, Pad: The Guide to Ultra-Living
; it is made from skewer of candy Lifesaver Gummies. You can get the 6-inch Bamboo Skewers
and the LifeSavers Gummies (Pack of 18)
from Amazon.
Note: I do have a nice collection of tiki mugs but I really like how the rum drinks look in a clear glass so they don't get used very often.