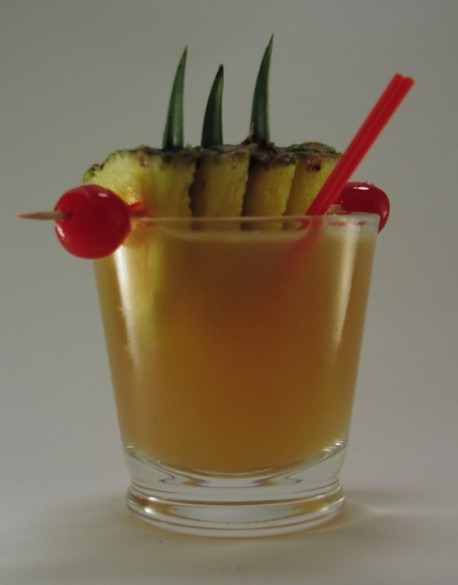 This is not the original Trader Vic Mai Tai. What this is is a very nicely balanced version of the fruity one's that we fell in love with while on vacation in Kauai. This recipe originates from Surf Room at the Royal Hawaiian in Waikiki circa 1940.
Combine the following in a shaker ⅔ full of ice
1 ounce Orange juice
1 ounce unsweetened pineapple juice
½ ounce fresh lime juice
¼ ounce fresh lemon juice
¼ ounce orgeat syrup
¼ ounce sugar syrup
¼ ounce orange curaçao
1 ounce Demerara rum
1 ounce Jamaican rum
1 ounce Puerto Rican rum
Shake well and strain into a chilled double old fashioned glass. Garnish generously.
Recipe adapted from Beachbum Berry's Intoxica!
For your garnish, get 4 inch Bamboo Skewers
from Amazon.