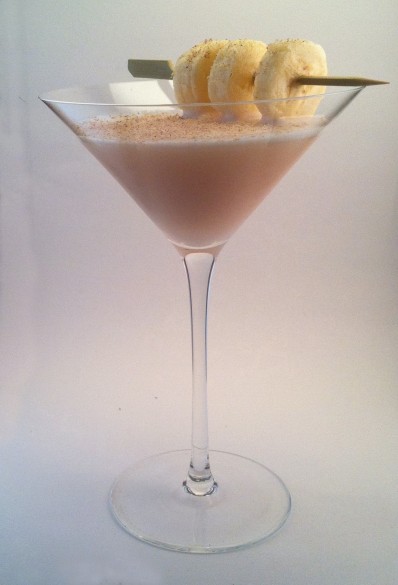 When all the guys are ordering Boiler Maker's it'd take some resolve to ask for (and explain how to make) this seemingly silly banana drink but it's not too sweet and is actually quite refreshing. It's easy to adjust the sweetness by tweaking the quantity of Crème de Banana and a splash of dark rum wouldn't hurt this if you feel experimental.
A further alteration is that instead of cream we usually will substitute vanilla soy milk which is far less rich.
Combine the following in a shaker ⅔ full of ice
1½ ounce of cream
1 ounce of light rum
1 ounce of Crème de Banana
dash of Grenadine
Shake well and strain into a chilled martini glass. Garnish with banana slices and sprinkle with grated nutmeg.
Recipe adapted from The Book of Cocktails
Amazon can set you up with Bamboo Skewers
and Martini Glasses